Admission Info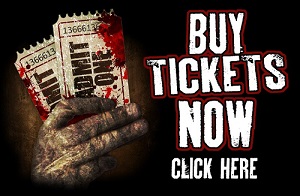 General Admission: $20
Special reduced price for 2021! Children 12 & under MUST be accompanied by an adult. They cannot attend the attraction alone.
VIP Fast Pass: $35
The VIP Fast Pass = You will still have to enter the line to the ticket booth to get your arm band. (after you have your arm band you will load up on the trailer and go to the top, and avoid that line at the top of the haunt. So you will Fast Pass by two lines. The line behind the ticket booth, and the line at the top of the haunt.
NOTE: On site ticket sales are by cash only. ATM will be available.
WARNING! This is an extremely intense 'In Your Face' Attraction. Enter at your own risk! The armband you need for admission will be checked at trailer loading and again at Haunt entrance. NO ARMBAND = NO ADMISSION!
Onsite Tickets: All tickets purchased onsite are first come first serve. If you arrive before we close you will go throught the haunt.
Return and Refund Policy: All ticket sales are final. No refunds or returns. If you or your children chicken out, or change your mind, there are no refunds. We are here to scare you, if you give up we have done a good job.
When you place an order for tickets, you will be transferred to a secure website. All personal information, including credit card information, is communicated to us using encryption technology that prevents a third party from gaining access to this information. There is a fee to purchase tickets on line. Midway Wicked Woods DOES NOT sell or distribute the data collected during a online ticket purchase. We use your data to facilitate the purchase of your ticket, and to contact you regarding specific haunted attraction related activities. 
We do not have a WILL CALL window. All online purchased tickets have a service fee added at the time of purchase. This service fee is a added by Fearticket the online ticket provider. A purchase of ticket online DOES NOT eliminate the line to the ticket booth, you must still get a arm band to enter the haunt by giving/showing your ticket to exchanged for you arm band. The armband will be checked at the trailer and again at Haunt entrance. NO ARMBAND = NO ADMISSION!